A Brief History of the Site
The renaissance of the Albert Kahn museum is the result of a gradual historical preservation process for the site initiated since the end of the 1930s.
At the Beginning: the Albert Kahn "Campus"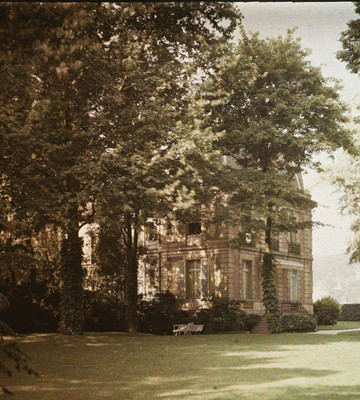 At the end of the 19th century, Albert Kahn, then in full professional ascension, moved to a residential and verdant neighborhood in Boulogne-sur-Seine, where the Rothschild family already lived.
In 1895, he bought the lovely brick and stone townhouse that he had been renting for two years and whose surroundings he had landscaped as soon as his arrival. From 1895 to 1920, he patiently acquired the neighboring parcels and thus created a property of 4.2 hectares in order to create a garden reflecting his ideal, that of a harmonious world.
The Boulogne property, was, from the beginning, the epicenter of Albert Kahn's exceptional project:
A lively, but private, center for sociability,
The headquarters for some of his foundations and the Around-the-World Society,
A support base and laboratory for the Archives of the Planet,
Jean Comandon's biology laboratory,
Printing house,
Documentation center,
Landscaped garden and screening room where the banker invited his guests for promenades and conferences on his influential project.