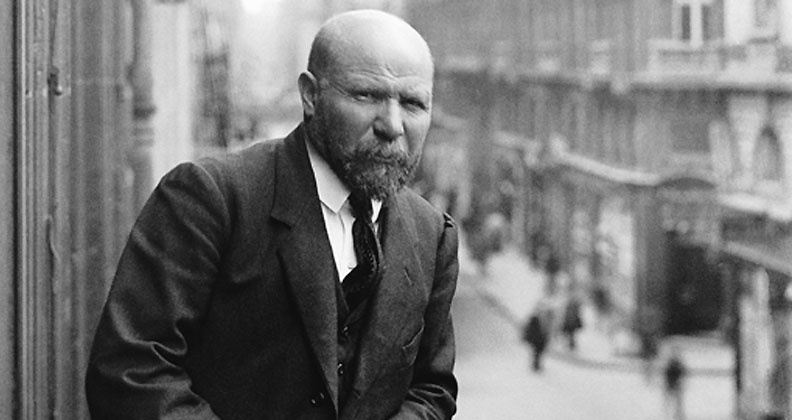 Abraham Kahn was born on March 3, 1860 in Marmoutier, in the Bas-Rhin region; he was the eldest of six children (two sisters died at an early age). His family belonged to a small community of Jewish shop owners and his father was a livestock merchant. His mother died when he was ten years old, only a few months before the start of the war that would result in Germany annexing Alsace-Moselle. He decided to go to Paris at the age of 16 years old, where he recovered his French nationality and changed his first name so he would be called Albert from then on.
His professional and financial ascension
He first worked for a clothing store on the rue du Faubourg Montmartre before starting work as an assistant at the bank owned by the brothers Charles and Edmond Goudchaux, distant cousins of his and heirs to a bank in Lorraine.
His perspicacity and combativeness rapidly led him to the position of accounts assistant, and then associate. In only a few years, from 1889 to 1893, he built up a fortune by speculating first on gold and diamond mines in South Africa. In parallel, he collaborated with a banking syndicate on industrial projects or international loans (Japanese, South African). In 1892, he became an associate of the Goudchaux brothers, before starting his own bank in 1898. He was only 38 years old.
While earning his living, he wanted to resume his studies and searched for a supervisor to help in this endeavor. In 1879, he became the first student of Henri Bergson, recently enrolled at Ecole normale supérieure. The two young men became friends and would remain in contact for the rest of their lives. In 1887, Kahn wrote him saying that success in business "was not his dream."
The creation of his philanthropic project
Once his fortune was made he got started on the creation of his philanthropic project. He was interested in political and social questions that traversed his era and tried to set up places of introspection and debate, wanting to give men the means to get to know one another better. Seeing, knowing, predicting: Albert Kahn advocated for rapprochement between populations by integrating an international spirit in his network of informed elites. Starting with the creation of different foundations (he created a dozen between 1898 and 1932), he tried to understand humanity in its complexity, summoning all its aspects (biological, sociological, political, economic, geographical, etc.) and encouraged breaking down barriers between disciplines. As of 1909 he embarked on his visual inventory project of the world:The Archives de la Planète.
This documentary visual archive is itself inscribed in a more global project initiated in 1898, with The Autour du Monde Scolarship, given to the Université de Paris, which granted financing, after a competitive exam, to young academic specialists so that they could travel for fifteen months in a foreign country, and "truly come into contact with life." As of 1905, Albert Kahn opened up these grants to young female specialists, and with this momentum, created the Autour du Monde Society in 1906, a society meant to encourage exchanges between former grant recipients and the international elite. In 1914, he initiated the creation of the Comité de Secours National, which lent assistance to civilian victims of war. In 1916, he founded The Comité National d'Études Sociales et Politiques (CNESP), where intellectuals got together in order to inform authorities on contemporary issues through analytical works. In 1918, he published a manifesto in favor of preventing conflicts, entitled The Droits et Devors des Gouvernements and created the first center of social documentation at Ecole Normale Supérieure in 1920. Starting in 1926, he welcomed a biology and scientific cinematography laboratory directed by Dr. Jean Comandon on his property.
"Consequently, our foundations, designed, started or carried out since 1897, were all meant to record [universal activity] in order to release the mind and, moreover, thanks to the Documentation thus compiled, guide the Aspirations of Humankind," Albert Kahn, Nos Fondations, March 28, 1932.
At the beginning of the 1930s, the consequences of the Wall Street crash led to his ruin and brought his work to a standstill.
From the project to the Museum: the Birth of the Musée Départemental Albert-KAHN
Thanks to the influence of admirers of his work, the Hauts-de-Seine département acquired, in 1936, Albert Kahn's property and collections of images. Despite this mobilization, at this time it was difficult to understand the relevance of the project in its entirety. Considered as separate entities, some elements were sold and others destroyed.
The estate and collections were then given to the Hauts-de-Seine département upon its creation in 1968. In the 1980s, a museum was created in order to study and conserve the collections. Above and beyond this mission, it also revived their role in the overall work. Benefitting from the Musée de France distinction, the site has been protected since 2015 as a historical monument (garden and historical building).
KEY DATES
1860: Birth of Albert Kahn.
1892: Albert Kahn rents a townhouse on the quai du 4 septembre and gradually buys several parcels in order to build a garden.
1898: Creation of the Autour du monde scolarships.
1906: Creation of the Autour du Monde society.
1909-1931: Albert Kahn launches his world documentation project: The Archives de la Planète.
1916: Creation of the Comité national d'études sociales et politiques.
1926: Installation of a biology and scientific cinematography laboratory.
1929: Creation of a preventive medicine center.
1936: Acquisition by the Hauts-de-Seine département of the entire property and collection of images following the banker's bankruptcy.
1937: The garden is first opened to the public, during the Exposition Internationale.
1940: Death of Albert Kahn.
1968: The property and collections are given to the Hauts-de-Seine département during its creation.
1986: Creation of a Musée Départemental in order to conserve, study and promote the collections.
2015: Registered as a historical monument.